It seems my pal Sean has come up with this cute li'l paper doll sort of model Paper Toy that you can put together... all you need is a Printer and some Elmer's Glue and a bit of patience, an' before you know it, there she is!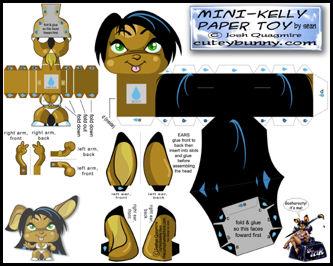 Click on the Pix to download a Printable Version...
A few notes from Sean on printing and such:
These li'l guys really should be printed on card stock. If you use regular paper the glue tends to wrinkle them up a bit, no matter how sparingly you use it...
For cutting, a hobby knife would be best - or tiny li'l nail scissors... Jus' plain ol' Elmer's glue will do for stickin' these together...
It takes maybe about an hour to cut and glue her together... perhaps a bit longer if you have to wait for the glue to set on some parts before proceeding...
So there you have it. Just download the high - resolution Jpeg (300 dpi), which is why it's a li'l large on file size, but will print sharper... then get to work - an' you may have your very own Bunny in time for Valentine's Day! JQ